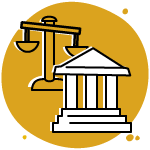 Lucy* and her family were COVID affected. They sought a reasonable and genuine rent reduction which they pursued in the Queensland Civil and Administrative Tribunal (QCAT) and won!
Since last month's changes by the state government to our tenancy laws for the COVID-19 emergency period, tenants seeking rent reductions have been left to negotiate with their agent or lessor. When agreement can't be reached, the dispute continues to RTA conciliation, and if not resolved there, can be decided in QCAT.
Several weeks into the changes, Lucy's story is one of the first QCAT outcomes we've heard and we're sharing it to give heart to all the Queensland renters still stuck in negotiation.
Lucy lives with her husband and small baby in a rental they've called home for ten years. Until COVID-19, the tenancy has been unremarkable. They've never been in arrears, never had to go to QCAT, and late last year welcomed their first child into their home.
However, when COVID struck, Lucy's husband was stood down from work and warned of a possible redundancy. With an uncertain family income and Lucy on maternity leave, she asked her agent for a rent reduction as soon as the Queensland COVID tenancy laws were made.
The agent said a rent reduction was not an available option because of the landlord's financial position.
Lucy met several requests from the agent to provide details and evidence, including completing the agent's checklist. When the agent made a further request to see financial records of savings Lucy drew the line. She considered, having proved she is in 'excessive hardship due to COVID', she should not be required to disclose additional information. On that basis, the agent decided it was not a formal rent reduction request.
The next day Lucy sent her request for dispute resolution to the RTA (Form 16a) along with evidence of the family's loss of income from COVID-19.
The RTA was quick to begin conciliation, during which time Lucy increased her rent offer from 25% to 30% of the family's income.
Throughout negotiation – before, during and after conciliation with the RTA – the landlord only ever offered a rent deferral. That is, any amount the rent was reduced now was to be paid back after the emergency is over. The landlord's offers only varied the length of time to pay the monies off.  At one point they were offered an early termination of their agreement, something Lucy's family felt was unreasonable given their long tenure.
Lucy also considered the failure to offer any real rent reduction unfair. Despite proving they were in excessive hardship due to COVID-19, their only option if they accepted the landlord's offer, meant they would be saddled with future debt.  
Lucy decided she would take her matter to QCAT for final resolution.
At QCAT, Lucy retold her story, including the landlord's refusal to negotiate a rent reduction on the basis they were not in a position to. No evidence of hardship was presented by the agent who appeared for the landlord. 
Lucy's perseverance was rewarded. QCAT ordered a genuine rent reduction (not deferral), backdated to the QCAT application date, setting their rent at 30% of their little family's income. The order is in place until the family's income improves or to the end of the emergency period.
Lucy's story should give other renters in the middle of negotiations hope for a good outcome. No two circumstances are the same, so QCAT orders will always rely on the circumstances and evidence put to it.
Good evidence of the family's changed employment and income circumstances will have helped QCAT come to its decision as well and Lucy's evidence of attempts to negotiate a reasonable outcome. Remember these tips if you're currently in that negotiation process. Of note, the RTA conciliation took only three days.
If you or your family are suffering from financial hardship because of COVID-19, please contact our advice hotline on 1300 744 263.
*The tenant's name has been changed to protect her identity.