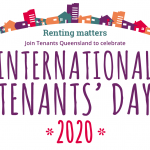 Since 1986, International Tenants Day (ITD) has been celebrated annually on the first Monday in October. Originating in France, the date was chosen to coincide with the United Nations World Habitat Day. ITD is used to promote and raise awareness of tenants' right across the world. 
In celebration of International Tenants Day 2020, and to promote and to raise awareness of young people entering the rental market, the First-Time Renter Collaboration is proud to present the following video that provides information and stories shared by young people about their experiences on entering a tenancy for the first time.
The First Time Renter project is a collaboration between Queensland Youth Housing Coalition (QYHC), Community Connections (CLA Inc.), Tenants Queensland (TQ), and Youth Advocacy Centre (YAC). The collaboration was established to bridge the gap in information for young people regarding steps to accessing tenancies in either private rental or public housing.
The resource produced through the collaboration gives young people and vulnerable first-time renters the foundational "how to" information required to successfully complete private rental applications and commence tenancies.
Click here to watch the video and access the accompanying resources and information