Today, Monday October 2, is International Tenants' Day (ITD). We wish all Queensland, Australian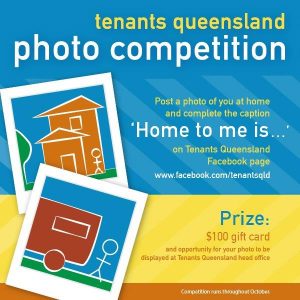 and renters around the world, a happy ITD. October 1 is also the second birthday of the Queensland Statewide Tenant Advice and Referral Service (QSTARS).
Tenants Queensland is and remains committed to improving the conditions for renters in our state and to make renting a secure and respected tenure.
As the 32nd ITD, the day has been celebrated annually on the first Monday in October since 1986, coordinating with the United Nations World Habitat Day.
If you are in Brisbane, Rockhampton, Cairns or on the Gold Coast please come and visit us at our ITD stalls (see below).
For tenants across the state, we invite everyone to participate in our photo competition 'Home to me is……'. You have all of October to send your photos to us.
Tuesday October 3
Brisbane –Post Office Square, Brisbane CBD 10am –2pm – Contact details 38329447
Cairns – Fogerty Park, Cairns Esplanade 11:00am – 3:00pm – Contact details 38329447
Rockhampton – the park adjacent to South Rockhampton Swimming pool 10am – 2pm – Contact details 38329447
Friday October 6
Gold Coast – Harley Park, Labrador 11am – 2pm – Contact details 5525 6599