Thank you to those Tenants that took the time to share their stories with us and submitted an entry for our International Tenants Day 2020 Competition.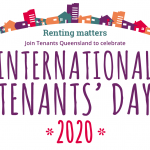 We are happy to announce that Emma is the winner of the 2020 ITD Competition. Her poem of her renting experience and her journey so far in 2020, along with the beautiful photo of her Son and their dogs,  captured for the judges what it takes to create happiness, why supportive neighbors are important and why renting matters. 
Congratulations Emma!
A Poem
About my renting experience in "2020"
by Emma
2020 so far has been far from boring
Character building to say the least
If it's not raining, it's been pouring
I feel kind of like I've been trying to find
My way out of a confusing maze
If I take the wrong turns
My bridges would burn
I'd be stuck in here for days
Now that I can actually see through all the former glory
The smoke and mirrors are what I need
Give it time and I'll be snoring.
2020 when Covid hit, began another journey
I started renting a little room
From a man that is crazy boring
So to answer the question of what
Matters to me amidst this Covid Chaos
I'd have to say that I'd rather be free
Than chop a psyco's head off.
But thanks to what originally seemed
Like a Covid rental nightmare
My new neighbours are so lovely and sweet
I'm blessed these souls are RARE!