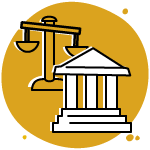 Lucy* and her family were COVID affected. They sought a reasonable and genuine rent reduction which they pursued in the Queensland Civil and Administrative Tribunal (QCAT) and won!
Since last month's changes by the state government to our tenancy laws for the COVID-19 emergency period, tenants seeking rent reductions have been left to negotiate with their agent or lessor. When agreement can't be reached, the dispute continues to RTA conciliation, and if not resolved there, can be decided in QCAT.
Several weeks into the changes, Lucy's story is one of the first QCAT outcomes we've heard and we're sharing it to give heart to all the Queensland renters still stuck in negotiation.
Lucy lives with her husband and small baby in a rental they've called home for ten years. Until COVID-19, the tenancy has been unremarkable. They've never been in arrears, never had to go to QCAT, and late last year welcomed their first child into their home.
However, when COVID struck, Lucy's husband was stood down from work and warned of a possible redundancy. With an uncertain family income and Lucy on maternity leave, she asked her agent for a rent reduction as soon as the Queensland COVID tenancy laws were made. [click to continue…]