Check out the rental vulnerability where you live!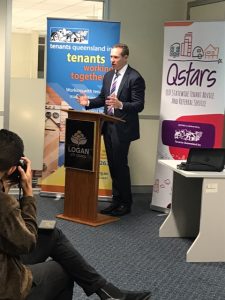 Today Housing Minister Mick de Brenni helped Tenants Queensland launch the first ever Rental Vulnerability Index (RVI), a tool which allows you to see how many vulnerable renters there are in any postcode area in Queensland.
The RVI is more than just a measure of affordability; it is a look into who lives in the local rental housing and what sort of other vulnerabilities they might experience. It combines 13 data sources, each of which individually expose a potential to experience a housing problem, into one measure of overall rental vulnerability.
Using the interactive map, you can identify not just the RVI for each Queensland postcode area, you can also see the statistics on each of those 13 indicators.
This RVI has been developed as primarily as a service planning tool for tenant advisory services – to ensure that need for services align with demand and if not to reach out to the most vulnerable tenants. However, it will have applicability for a much broader range of service providers, policy maker and planners.